Torņakalns' Drive
Ieva Putniņa
7/06 – 8/07/2023
Tina Turner's "It's simply the best" plays from the next room. That is enough for Ieva to have woken up and already got out of bed! "Well, this magical day has begun!" Ieva with 5 camels and 3 blind people (the number of steps) reaches the coffee machine, which it turns out Zane and Putriņa have put there during the night, non-stop rummaging in the workshop and drinking coffee. "Heh, heh, that's nothing," thinks Ieva, "I can pour coffee beans into my mouth and chew them properly".
And it's done.
After drinking coffee, Ieva starts packing her jeep full of painting supplies and CDs. "You never know how long the road will be, it's better to take more music," Ieva thinks wisely.
After throwing only 2 circles around Torņkalns, Ieva realizes that everything is so abnormally beautiful, so she quickly turns the corner to the right, easily jumps over the curb and enters the nearby snake grove to paint.
This exhibition features paintings where the study of nature competes with the imagination.
— Margrieta Griestiņa
Ieva Putniņa's range of interests is wide – painting, animation, cinema, performance. Visually, her works are often reminiscent of older art traditions, but the paradoxical plot twists allow them to be located in a completely modern world. Ieva likes to create props to such a degree of reality that you only have to touch them to realize that they are not edible or usable (but maybe they are?). Ieva is a teacher at the Janis Rozentāls Art School. She has exhibited in Low gallery, Maboca festival, Ag Gallery, Riga Circus Elephant Hall and elsewhere.
Support: VKKF, Rīgas dome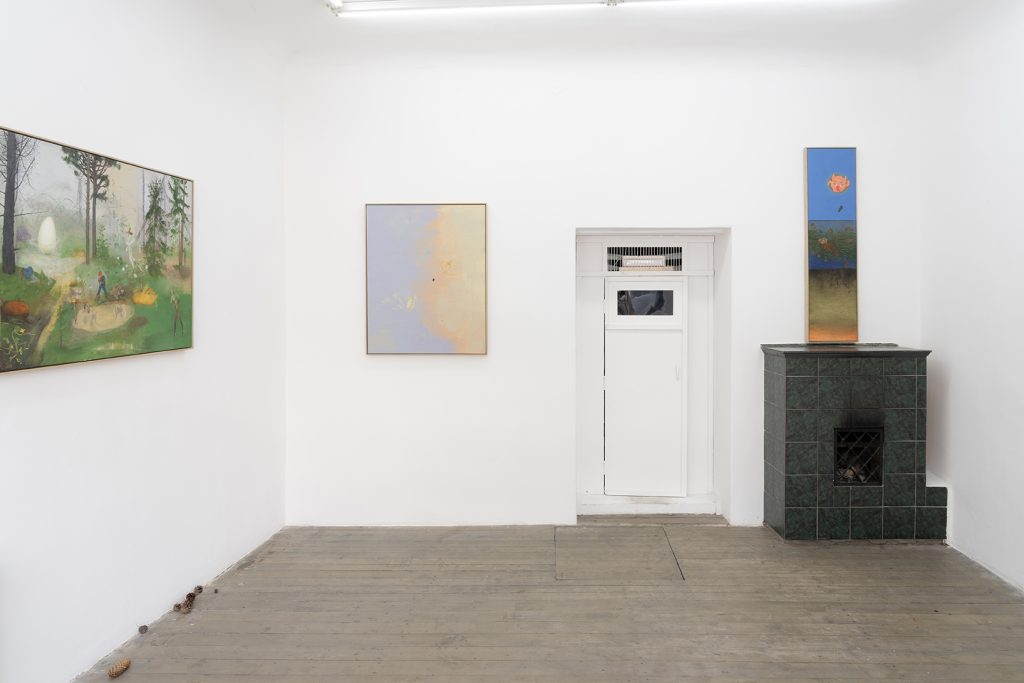 Photos: Līga Spunde